Home
»
Basement Finishing Guide
Home Improvement Questions Frequently Asked by Pittsburgh, PA Homeowners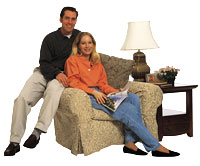 How do we select a dependable company?
Which product best satisfies our needs?
How do we ensure a high-quality installation?
Will we receive a written warranty?
How will service requests be handled?
Are affordable payment terms offered?
Don't Ask Just Any Company For Answers. Choose One You Can Depend on...
Reliable dealership with local affiliations and national support.
All Total Basement Finishing dealers are locally run and operated by highly trained home improvement contractors. Each TBF dealer is given complete access to all of Total Basement Finishing's patent-pending products, services, and dealer training.
High-performance product with patent-pending design.
The TBF basement wall system is unique in the marketplace. Its free-standing, rigid walls offer an insulation factor of R-13, are fire rated class A, and are resistant to mold, water damage, stains and moisture. They also come in a variety of styles and finishes--isn't that what you really want in a finished basement system?
Factory-trained Installers.
All dealers are trained in the installation of the product by the manufacturer. This ensures that each basement system is installed properly and stands up to the limited lifetime warranty.
One-stop shopping: design consultation, financing, and customer service.
When you schedule your Free Estimate, we send out a System Designer who will work with you to design the perfect basement remodeling plan to suit your needs and style.
The Total Basement Finishing dealer network of trained home improvement contractors offers the best system features, service and design. For a Free Estimate in Pittsburgh, Butler, New Castle, Greensburg, Irwin, Johnstown, New Kensington, Mckeesport, Coraopolis, Monroeville, Beaver Falls, Bethel Park, Latrobe, or surrounding towns in Pennsylvania, contact us today.
Looking for a price? Get a no cost, no obligation free estimate.