Expert Basement Finishing & Remodeling Contractor Murrysville, PA
Have you been dreaming about turning the unused space in your basement into a fun new space for you and your family to enjoy? If so, you are in the right place! Total Basement Finishing by Energy Swing Windows is your locally authorized Total Basement Finishing dealer and have the knowledge and experience to transform your basement into a valuable finished living space. With over 20 years of basement finishing experience and the support of a nationally recognized basement remodeling organization, we can confidently handle any problem and get you the results you demand.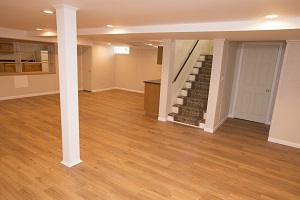 The Total Basement Finishing System includes wall panels, flooring and ceiling tiles that are waterproof and designed specifically for finished basements.
Our Perfected Basement Finishing System
The key to basement finishing is using high-quality products that are not made with any organic materials. If an organic material such as wood is used even the slightest amount of moisture can have terrible consequences. Once a little moisture is introduced to the space mold and mildew can freely grow and spell disaster to your space. That is why we have a full line of reliable products that look great and won't be affected by mold or mildew. We have several basement finishing floor, wall & ceiling tile options to choose from so we know you will get you the basement remodeling look you have always dreamed of.
Basement Remodeling Reasons & Benefits
Moisture and mold free. With over 20 years of basement waterproofing and dehumidification experience, Basement Systems has the best products and techniques available for keeping your basement dry. Our basement finishing products (wall panels, flooring, molding, ceiling tiles and more) are waterproof and won't support mold growth. When you combine the best moisture control techniques with moisture and mold-resistant materials designed specifically for basements, you've got the best formula for a beautiful, long-lasting basement transformation.
Inexpensive extra space. Remodeling your basement is an excellent way to utilize the space you already have. A basement renovation adds a quiet, private space for a fraction of what you'd pay to build an addition and unlike an addition, basement remodeling won't diminish the size of your yard.
Excellent return on investment. Finishing all or part of your basement is a definite way to increase the value of your house. A basement remodel ranks right up there with kitchen and bath remodeling in terms of improving a home's resale value.
Energy savings. Many unfinished basements have too many air leaks and too little insulation. As a result, the basement can waste energy and compromise the comfort of upstairs living space. Adding insulation and super-efficient windows in the basement will improve your home's comfort while saving money on heating and cooling costs. There's a bonus for upgrading your basement's energy efficiency: You may qualify for rebates for certain energy upgrades.
Our highly trained basement remodeling experts will take the time to figure out your needs and wants, and help you determine what products and services will work best for your home. Whether you are looking to build a home gym, an entertainment room, home office, or anything else, Total Basement Finishing by Energy Swing Windows has the basement remodeling skills and techniques to help build your dream basement.
To get started, contact us today for a FREE basement finishing estimate!