Sunrooms & Patio Room Installation in Irwin, Johnstown, New Kensington
Patio Installation For Your PA Home In Pittsburgh, Somerset County, & Nearby
Local homeowners in Pittsburgh and other areas in PA have been adding comfort, style, and luxury to their homes' outdoor living space. At Total Basement Finishing of Pittsburgh, we provide professional installation of Betterliving patios and sunrooms, adding a beautiful, valuable addition to your home investment.
Need a home improvement? How about a Three Season patio room, a year-round sunroom, a screen room, or an awning for shade? Betterliving of Pittsburgh has the resources and desire to increase your home's value and allure by transforming this outdoor
living space.
Your Pittsburgh Patio Room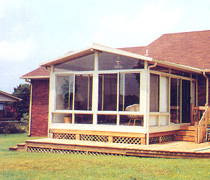 A patio room is a great idea for any homeowner looking for an escape from the pesky critters and mosquitoes that can ruin an outdoor experience. If your home could use the extra space and the added curb appeal, then there's no reason you shouldn't enclose your patio.
Betterliving of Pittsburgh will get the job done in no time. With some insulation, flooring, beautiful windows, doors, and screens; your patio room will be good to go!
What if you make the installation, the house is sold, and the new homeowner wants to have a room that can be used all year round? Guess what? They won't have to tear down your patio room!
A Sunroom For Your Pittsburgh Home
A patio enclosure is a great use of space and money. By updating your unenclosed patio, into a full patio room, you take the first step to creating a room with a year-round purpose!
A sunroom is an elegant, comfortable home improvement that's well worth the investment. If you want to enclose your patio but just aren't ready to develop it into a year-round sunroom -- that's okay!
If you're most comfortable with covering your patio and then later deciding whether you want to use the space year-round as a sunroom, there's no problem with that. Of course, making it a one-step process would be the most timely -- do what's most comfortable for your family.
Betterliving Patios:
Fully engineered 3" extruded components
Sturdy screens in strong 3" interlocking frames
Easy gliding and fully tempered glass windows and doors standard on all units
Baked on, maintenance free enamel finish
15-year transferable manufacturer's warranty - lifetime on glass
Optional insulated argon filled, dual pane doors and windows
Weather resistant roofing
Appealing and efficient water draining gutter systems
Certified by Keystone Fenestration Manufacturers Association and American Architectural Manufacturer's Association
Do More With Betterliving of Pittsburgh's Awnings, Screen Rooms, Sunrooms, & Patio Furniture
Cover Your Patio With A Retractable Fabric Awning
Control the influence the elements have on your patio -- sun when you want it, and shade when you need it! Our strong, flexible retractable awnings in Pittsburgh will shade your home, protect your furnishings from sun damage, and help to reduce home energy costs.
Screen Rooms
Screen room -- which room?! Screen rooms in Pennsylvania, covered porches, carports, and deck and patio covers are great choices for outdoor living comfort. Entertain family and friends without worrying about pesky insects or the unpredictable weather.
Sunrooms
The beauty and appeal of your Betterliving Pittsburgh sunrooms can be achieved all throughout the year and its right at your fingertips. Find out more about the sunroom of your dreams.
Patio Room Furniture
Our impressive Wicker and Rattan collection is perfect for your sunroom! Choose from an array of designs, fabrics and accessories. Your patio furniture brings a unique touch to the space whether you have a table and chairs or a couch; you'll find comfort entering into a patio room full furnished with the style and prestige of Betterliving.

Looking for a price? Get a no cost, no obligation free estimate.